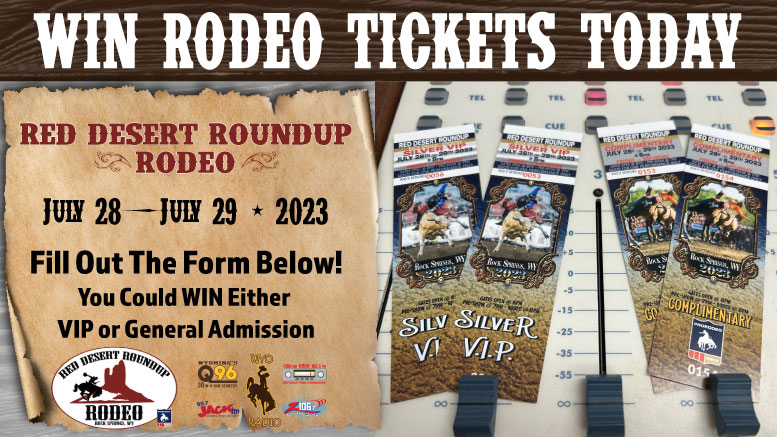 Want to win either VIP or General Admissions for the Red Desert Roundup Rodeo? Well, you've come to the right place! Fill out the form below and be automatically entered to WIN!
Winners will be announce the mornings of July 20, 21, 24, 25 and 26!
CLICK HERE TO ENTER — > https://docs.google.com/forms/d/e/1FAIpQLSedJ-IfWg5wcw5DrDDL7N0qcAXKfjC8vnwi8705FC90CWuSCQ/viewform
RULES AND REGULATIONS
2023 WyoRadio -"Red Desert Roundup Giveaway"  
This promotion is open to all listeners who are legal US residents, 18 years of age or older.
There is no entry fee charged to participate.
The WyoRadio "Red Desert Roundup Rodeo Ticket Giveaway" is a daily contest between Thursday, July 20, 2023, and Wednesday, July 26, 2023 (excluding Saturday and Sunday).
People may register to win at WyoRadio Facebook page (www.Facebook/WyoRadio).
Each day of the contest, one eligible person's name will be announced from all entries received as of the date of the drawing.
A person can win only one time.
The announced prize is two (2) tickets to either the Friday or the Saturday night performance of the Red Desert Roundup Rodeo.
Winning names will be announced on the WyoRadio Facebook page, www.Facebook.com/WyoRadio, and WyoRadio stations, KQSW-FM (96.5), KSIT-FM (99.7), and KMRZ-FM 9106.7).
Winners will be notified of the prize won via entry information.
Entry information must be filled out completely in order to be valid.
Prize must be picked up at the WyoRadio studios located at 2717 Yellowstone Road, Rock Springs, Wyoming.
Winners must pick up their prize no later than 5 p.m. on Friday, July 28, 2023.
Winners must have a valid picture ID to redeem any prize won.
There is no prize substitution.
A winner will forfeit any prize not claimed within 30 days of winning.
If a prize is not claimed, no alternate winner will be selected, and the prize(s) will become the property of WyoRadio.
Winners are responsible for all taxes due from the prize won. An IRS Form W-9 with the winner's full Social Security number will be issued with any prize won valued at over $600.00. Failure to submit a complete W-9 will result in forfeiture of the prize.
By participating in this WyoRadio promotion, the winner(s) agree to have his or her name, voice and likeness used in any advertising or broadcasting material related to the "Lagoon Giveaway", without further compensation.
Decisions by WyoRadio management with respect to this Promotion are final.
WyoRadio reserves the right to cancel, terminate or modify this Promotion as it deems necessary if it is not capable of completion as planned.
WyoRadio reserves the right to make changes in the rules of this promotion, including, without limitation, the substitution of a prize or equivalent value, which will become effective upon announcement.
WyoRadio, in its sole discretion, reserves the right to disqualify any person tampering with the entry process. Failure to comply with these rules may result in a contestant's disqualification and/or forfeiture of any prize or prizes.
Employees of WyoRadio and their immediate families or households, its licensee, participating sponsors and their employees are not eligible to participate.