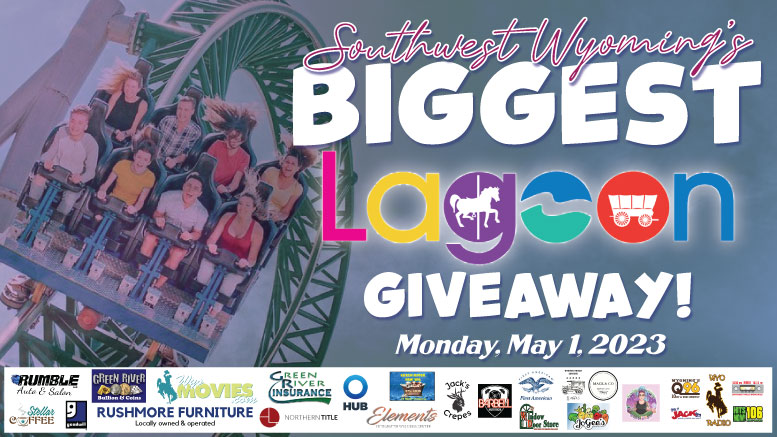 Contestants can register at sponsor locations to be entered in a drawing to win day passes to Lagoon Amusement Park in Salt Lake City!
Thanks to our sponsors: Jack's Crepes, Barbell Nutrition, Stellar Coffee, Window and Door Store, Goodwill, Green River Paw Spa, Star Stadium/WyoMovies, Green River Insurance, Elements – Integrative Wellness Center, Rushmore Furniture, Northern Title, HUB International, Mack & Co. Company, Green River Bullion & Coin, 1st American Title, JoGee's Juice Bar Rumble Auto & Salon and Bad Apple Energy.
May 1-5 Locations: Rumble Auto & Salon (1220 Elk St., Rock Springs, WY) and Jack's Crepes (1977 Dewar Drive, Unit G, Rock Springs, WY)
May 8-12 Locations: Stellar Coffee (705 Uinta Drive, Green River, WY inside the Ice Cream Shop) and Barbell Nutrition (2201 Foothill Blvd Rock Springs, WY)
May 15-19 Locations: Green River Paw Spa (76 N 1st E St, Green River, WY) and Window and Door Store (900 W Flaming Gorge Way, Green River, WY)
May 22-26 Locations: Rushmore Furniture (19 K St., Rock Springs, WY) and Star Stadium 11 + ARQ® (2441 Foothill Blvd., Rock Springs, WY)
May 29-June 2 Locations: Green River Insurance (900 W Flaming Gorge Way, Ste A ., Green River, WY) and Elements – Integrative Wellness Center (120 Winston Dr. Suite 101, Rock Springs, WY)
June 5-9 Locations:
June 12-16 Locations:
June 19-23 Locations:
June 26-30 Locations:
2023 WyoRadio "Lagoon Giveaway"
This promotion is open to all listeners who are legal US residents, 18 years of age or older.
There is no entry fee charged to participate.
The WyoRadio "Lagoon Giveaway" is a weekly giveaway contest with winners receiving two (2) entrance passes to Lagoon Amusement Park in Farmington, Utah. Passes are valid for the 2023 season only. Park hours and dates open can be found at www.lagoonpark.com.
People may register at weekly participating sponsors. Dates and locations are listed at www.96KQSW.com, www.99KSIT.com, www.106KMRZ.com, and www.1360KRKK.com. Weekly locations will be announced throughout the day at 99.5 KQSW, 99.7 KSIT, 106.7 KMRZ, and 1360 KRKK.
WyoRadio may, on occasion, giveaway additional Lagoon admission tickets via remote broadcast from locations announced on one or all of the above-listed WyoRadio stations. Registration rules may differ.
Each week, one person will be drawn from all registrations received at each listed and announced location. A person can register at all weekly locations.
No carry-over registrations will be allowed. Weekly registrations will begin fresh with each new registration sponsorship location(s). Persons can win more than one time.
One name will be drawn from each registration location the Monday following their registration week.
Winners will be notified via entry form information. Winning names will also be published on the WyoRadio Facebook page, www.Facebook.com/WyoRadio.
People can register once per day and are limited to one entry per visit to each weekly sponsor. 
 Entry forms must be filled out completely in order to be valid.
WyoRadio and 99.7 JACK-FM are not responsible for any other expense associated with the winner attending Lagoon.
Winners must pick up their Lagoon admission tickets at the WyoRadio studio, 2717 Yellowstone Road, Rock Springs, Wyoming, Monday-Friday between 8 a.m. and 5 p.m.
Winners must have a valid picture ID to redeem any prize won.
There is no prize substitution.
A winner will forfeit any prize not claimed within 30 days of winning.
If a prize is not claimed, no alternate winner will be selected, and the prize(s) will become the property of WyoRadio.
Winners are responsible for all taxes due from the prize won. An IRS Form W-9 with the winner's full Social Security number will be issued with any prize won valued at over $600.00. Failure to submit a complete W-9 will result in forfeiture of the prize.
By participating in this WyoRadio promotion, the winner(s) agree to have his or her name, voice and likeness used in any advertising or broadcasting material related to the "Lagoon Giveaway", without further compensation.
Decisions by WyoRadio management with respect to this Promotion are final.
WyoRadio reserves the right to cancel, terminate or modify this Promotion as it deems necessary if it is not capable of completion as planned.
WyoRadio reserves the right to make changes in the rules of this promotion, including, without limitation, the substitution of a prize or equivalent value, which will become effective upon announcement.
WyoRadio, in its sole discretion, reserves the right to disqualify any person tampering with the entry process. Failure to comply with these rules may result in a contestant's disqualification and/or forfeiture of any prize or prizes.
Employees of WyoRadio and their immediate families or households, its licensee, participating sponsors and their employees are not eligible to participate.